SEEING THROUGH THE WORLD: TRANSPARENCY AND PLANETIZATION
47th International Jean Gebser Society Conference
6-7 OCTOBER 2017
Judson Memorial Assembly Hall, New York, NY
 
Program & Registration
ABout Jean Gebser
Jean Gebser (1905-1973) was a German philosopher, poet, and phenomenologist of consciousness. He is best known in the English-speaking world for The Ever-Present Origin (1949/1953), a masterful work of philosophical scholarship detailing a series of structural transformations in human consciousness. These leaps, or "mutations", between structures often coincided with the simultaneous breakdown of deficient mentalities and the creative resurgence of new, spiritual qualities in humanity. Our present world anticipates a dramatic leap into the new, integral structure, which is noted for its quality of a-perspectivalism and seeing through and behind things. Only through transparency can the ever-presence of origin be perceived.
CONFERENCE THEME
In Jean Gebser's body of work, the principle of transparency is a unique expression of the emerging integral world. The nascent, integral structure of consciousness, which Gebser believed was well underway during his lifetime, could be identified by its spiritual capacity to render the world transparent, to shine through (durchscheinen) to its originary and primordial powers. The effect this would have on the previously realized structures of consciousness would be to render them diaphanous in both its dark aspects (the magic and mythic ontologies) as well as its light aspects (the mental-rational ontology). The synonyms clarity and lucidity were also provided by Gebser as qualitative descriptors—found in both the arts, through poets like Rilke, or the sciences, through physicists like Niels Bohr and Werner Heisenberg with the discoveries in quantum mechanics—to further elucidate the integral structure.
For the 47th annual Jean Gebser Society conference, we ask our presenters to examine the question of transparency. What is the nature of transparency? In what ways has transparency manifested in our present world? What are its challenges and complexities? How might this quality be assessed in both the humanities and the sciences in the decades following The Ever-Present Origin's publication? How have planetary-scaled phenomena, like climate change and the ecological crisis, or communication revolutions, like New Media and the internet, furthered and complicated our understanding? To what degree does transparency reveal both the efficient and deficient manifestations of globalization?
Presenters will consider the direct, phenomenological implications of transparency. Alongside scholarly and scientific studies, contributions from the arts, such as music, experimental cinema, and poetry, are also included.
---
SCHEDULE
FRIDAY
11 AM
OPENING NOTES:
Society President, Jeremy Johnson
Vice President, Sabrina Dalla Valle
12 PM
Robert Mitchell, "Gebser, Neumann, Jung, Correlating Integrality and Individuation"
12:50
Judy B. Gardiner, "From Fragmentation to Wholeness as Seen Through the Collective Unconscious"
1:40-3:30
LUNCH
3:30 PM
Brandt Stickley, "The Fire and the Rose are One: Diaphaneity and the Phenomenology of Fire"
4:20 PM
Jessie Shaw, "Transparency, Healing Through the Omission of Time"
5:10 PM
Nicholas Brink, "Experiencing Time-Free Transparency"
6 PM
Jeremy Johnson, "Integrality as Waring Through: Mythical and Magical Restructuration in Planetary Culture"
6:50 PM
CLOSING NOTES
7 PM
BREAK
7:30 PM
Society Meeting Over Dinner, Location TBA
---
SATURDAY
9:10 AM
Glenn Aparicio Parry, "Transparency of Time in the Trump Era: Native America's Continuing Effect Upon the Founding of this Country"
10:00 AM
Aaron Cheak, "The Angel of Winter: Gebser's Wintergedicht and the Inspiration for the Ever-Present Origin"
Livestream presentation and discussion
10:50 AM
Cordula Frei, "Free Improvisation on Isha Schwaller de Lubizc's The Opening of the Way."
Presented by Sabrina Dalla Valle
11:40 AM
Lisa Maroski, "Expressing Transparency Transparently: Challenges for Opaque Language Structures"
12:30-2:30 PM
LUNCH
2:30 AM
Andrew Venezia, "Transparent Self, Trans-Symbolic Meaning"
3:20 PM
Mirco A. Mannucci, "Sendivogius' Mirror; The Integral Space-Time Octave"
Livestream presentation and discussion
4:10 PM
Heiner Benking, "Concreteness in Integral Worlds"
Livestream presentation and discussion
5 PM
David Zuckerman, "Nationalism and the Politics of Transparency"
5:50 PM
Closing Notes
6 PM
BREAK
7 PM
Social Dinner
---
SUNDAY
10 AM
Daffi Nathanson, "Psychedelic Psychotronics,"
Film and commentary.
10:50 AM
John Dotson, "How do we Move Manhattan? A Ballad of Transparent Temporics on Mannahatta, the Island at the Center of the World"
11:40 PM
Sabrina Dalla Valle, "The Death of Man: At the Beach"
12:30 PM
Jeremy Johnson, "Integrality as Waring Through: Mythical and Magical Restructuration in Planetary Culture"
12:50
BREAK & CONFERENCE CONCLUSION
∞
Abstracts forthcoming…
---
REGISTRATION TIERS & PRICES
Please note that walk-in registration is also available and is priced at the same fee.
Please see our tiered registration explanations before purchasing your ticket below.
Community Support
The International Jean Gebser Society is entirely supported by its society members and conference attendees.
All sales go directly to conference hard expenses such as paying for the venue, serving refreshments, and providing programming. Additional funds pay for the society's upkeep and the following year's conference.
We thank you for your support.
Day Pass:
Access to a single day of the conference. We have priced this at what we feel to be reasonable rate for access to a rich environment of sharing knowledge and experiencing community in the heart of New York City.
Full Conference:
Access all three days of the conference.
Student/Hardship:
This tier provides access to the entirety of the conference (all three days). A limited number are available. This is a subsidized tier.
---
LOCATION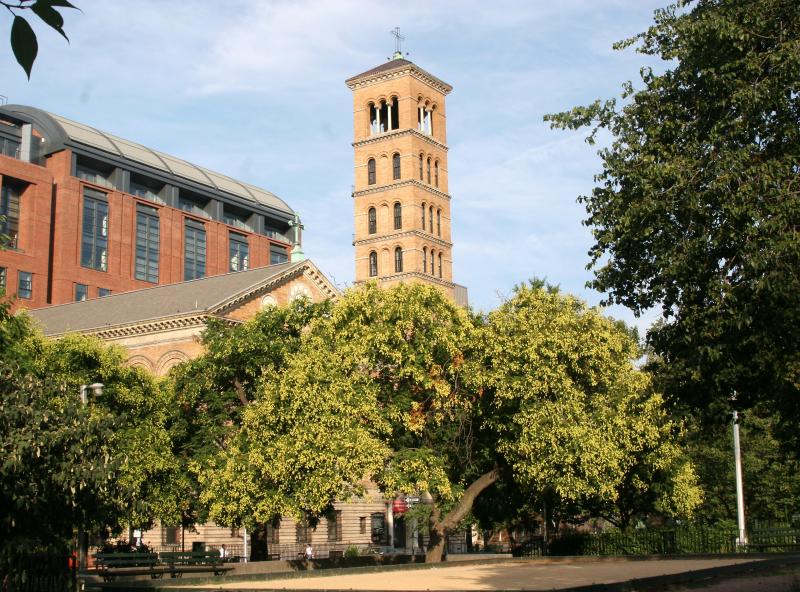 The 47th Annual Jean Gebser Conference will preside at Judson Memorial Assembly Hall, across from Washington Square Park in New York City.
Light refreshments will be served at the venue.
Judson Memorial Assembly Hall
239 Thompson Street (Between West Third Street and Washington Square South)
New York, N.Y. 10012
LODGING & ACCOMMODATIONS
Presenters and attendees are encouraged to use Airbnb for their accommodations. Hotels near Washington Square Park. Bowery's Whitehouse Hostel (only a few blocks walk away from the conference location).
Sponsors & Allies
---
Join our Mailing List
Receive Gebser Society conference updates and related activities.
Join the International Jean Gebser Society
Learn more about membership benefits.
∞
Join our Email Discussion List.